If you've built a low profile keyboard, you're most likely already familiar with FK Caps. They're the team behind the popular MBK keycaps for Kailh Choc v1 switches. These keycaps make up the bulk of keycap options for Choc switches, and provide a few different avenues for expressing yourself.
The original MBK keycaps were blank, legend-less keys. They were available in a variety of injection molded and dyed colors, and let you build any sort of keyboard you could imagine... as long as you were a good touch typist. Then the aptly-named MBK Legends keycap set burst onto the scene. They offered a variety of alpha keys, text modifiers, and icon-based legends designed by tectonicplate. The initial run of MBK Legends provided aspiring keyboard builders with white, black, gray, and red keycap options. While stock of this initial print run is dwindling, FK Caps is planning on releasing a new extended MBK Legends set this year which will swap out the red accented keys for a new blue set.
Not satisfied there, FK Caps also released the popular MBK Legend Glow keycap set. This set is a must-have for any low profile keyboard with per-key LED backlighting, and is available in black or white.
For the last few years, this has generally been the state of low profile keycaps. You can either eschew key legends and create a color-coordinated board with blank keycaps, or you pick up set with legends and embrace the monochrome or lean into the red accents. I did the later with my ChonkV keyboard. But now FK Caps has come out with a new option for keyboard design.
FK Custom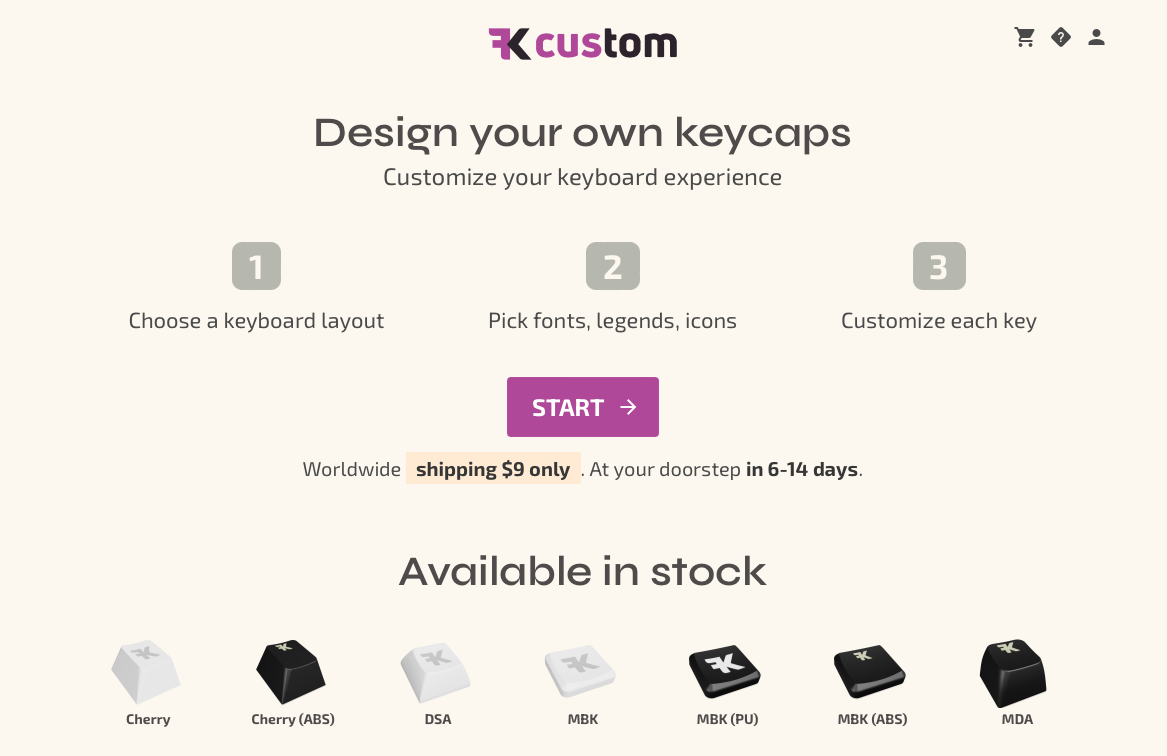 FK Caps' new FK Custom service is a laser engraving keycap service. Instead of having to choose between a stock set of legends or a blank set of keys, you can now print off exactly the keys you want for your next build. (Just in case you don't make it to the end of this article: You can get an extra 10% off your order with the FlatFootFox affiliate code.)
I'm not going to bury the lede here: You can now make a low profile keyboard with purple legend keys.
Okay, that might not be everyone's priority. Let's back up a bit. FK Custom allows you to create custom-legend keys across 7 different keycap types. In the low profile Choc arena you can create three different types of MBK keycaps, while the full size MX crowd can make keys with Cherry, DSA, or MDA profiles. These keycaps come in a variety of colors (White, black, purple, red, orange, and black shine-through in the case of MBK keycaps.) The keycaps can be adorned in any text, international characters, icons, or vector graphics that you'd like.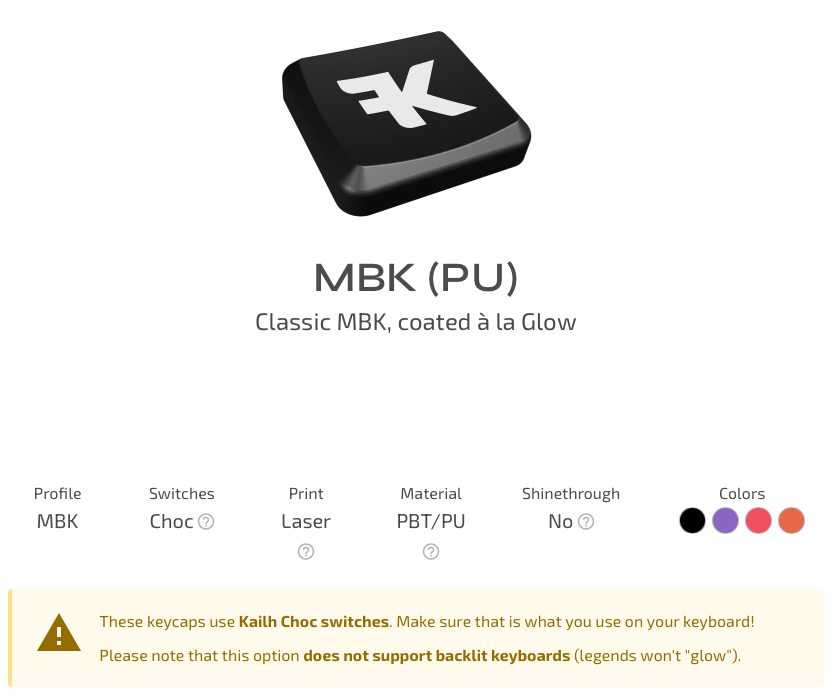 FK Custom does a good job walking you through all the characteristics of each switch type. Their white MBK keycap offering feels similar to their classic MBK Legends keycaps, while the MBK (PU) keycaps have a polyurethane coating similar to the MBK Glow keycaps. If you're trying to match the look and feel of an existing keycap set, they do a good job steering you in the right direction.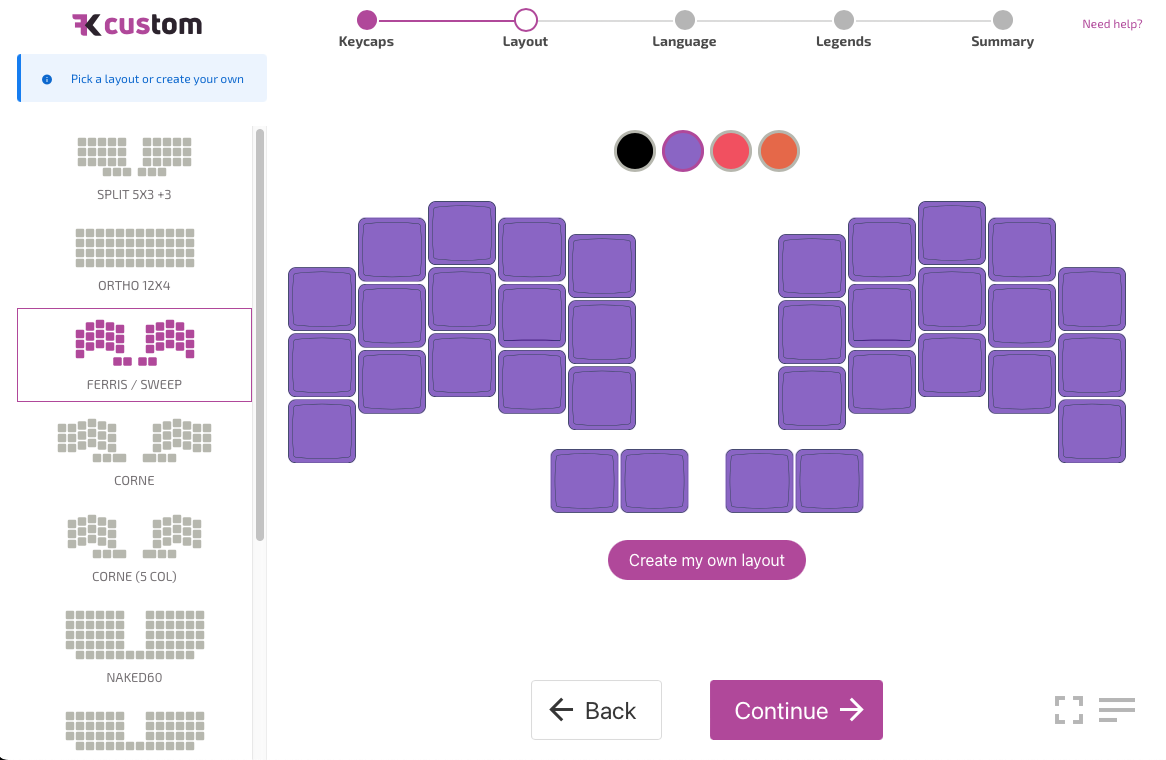 Once you pick your keycap type, FK Customs sends you through an interactive keycap design tool. Rather than having to start with a blank slate, FK Custom has gone ahead and created templates for some of the most popular ergonomic mechanical keyboards. If you're looking to outfit a Ferris or a Corne, it's as simple as selecting your board and moving onto the next step. If you're looking to build a keycap set for a custom board, you can drag and drop keys to build your custom layout.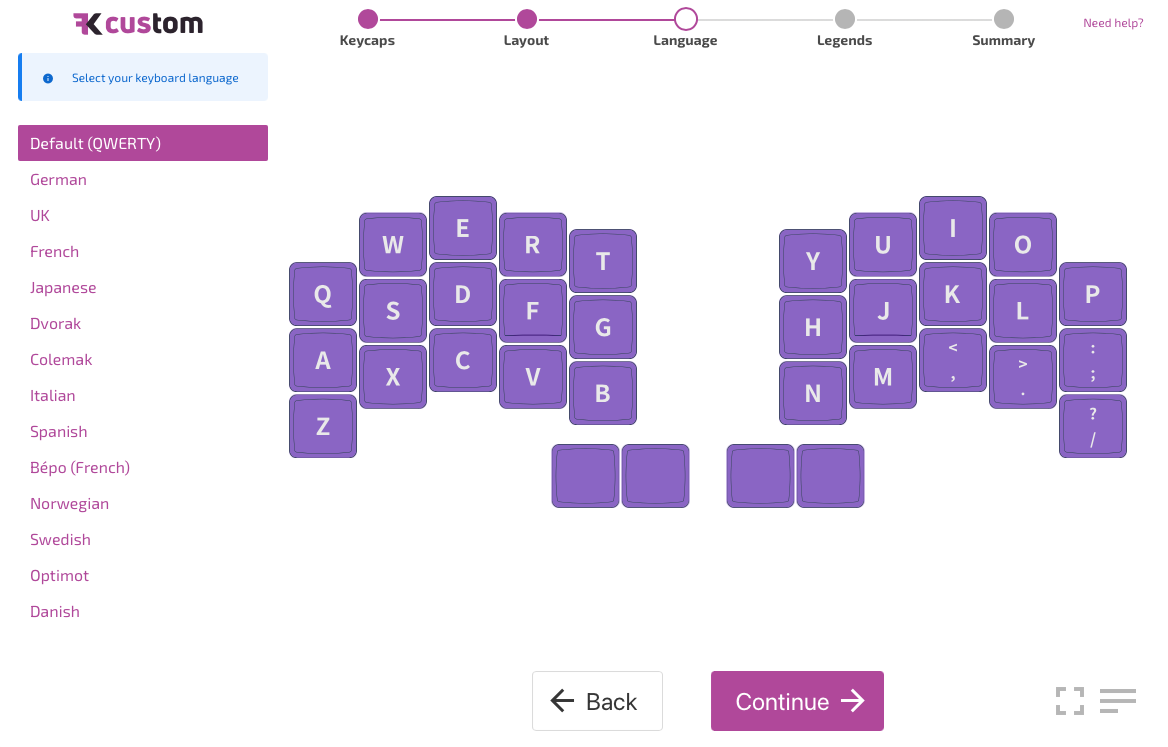 To start things off, FK Custom lets you select the language of your board. This applies a standard set of alpha letters to your board. The international crowd will be happy to see a wide variety of local letters and accent marks available within the customizer. (It's also worth noting that FK Custom has worldwide shipping for $9 USD.)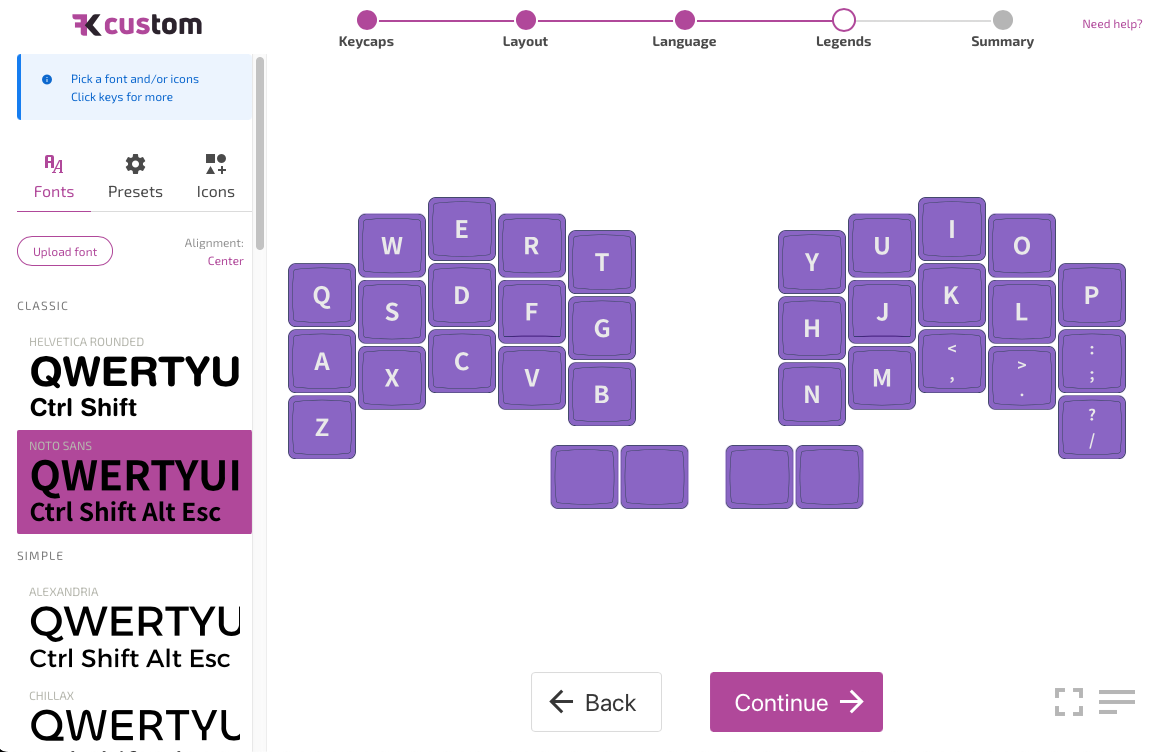 Once you've picked your language, you can adjust the font of the alpha keys. The tool defaults to the legible Noto Sans, but you can mix things up with Helvetica Rounded, Roboto, and even some retro pixel fonts. You can also upload your own custom font file if you're looking for something a bit more bespoke.
In addition to these keyboard-wide changes, you can also make individual adjustments to each keycap. You can enter text on a keycap, use a built-in icon, or upload your own vector.
Text keys support a variety of sizing and placement options. You're able to switch the font on a per-key basis, allowing you to do things such as having different fonts for your alpha keys and your text-style modifiers.
Icon keys allow you to select an icon from a variety of icon sets. You can select any of the icons from the custom MBK Legends icon set, as well as use icons from a variety of open source libraries such as Icofont, Font Awesome, Bootstrap, and Framework7.
If the glyph you're looking for isn't in any of those icon sets, you can also upload your own custom .svg vector icons. These can come from other external icon sets, or can be your own creation from free tools like Inkscape or Figma.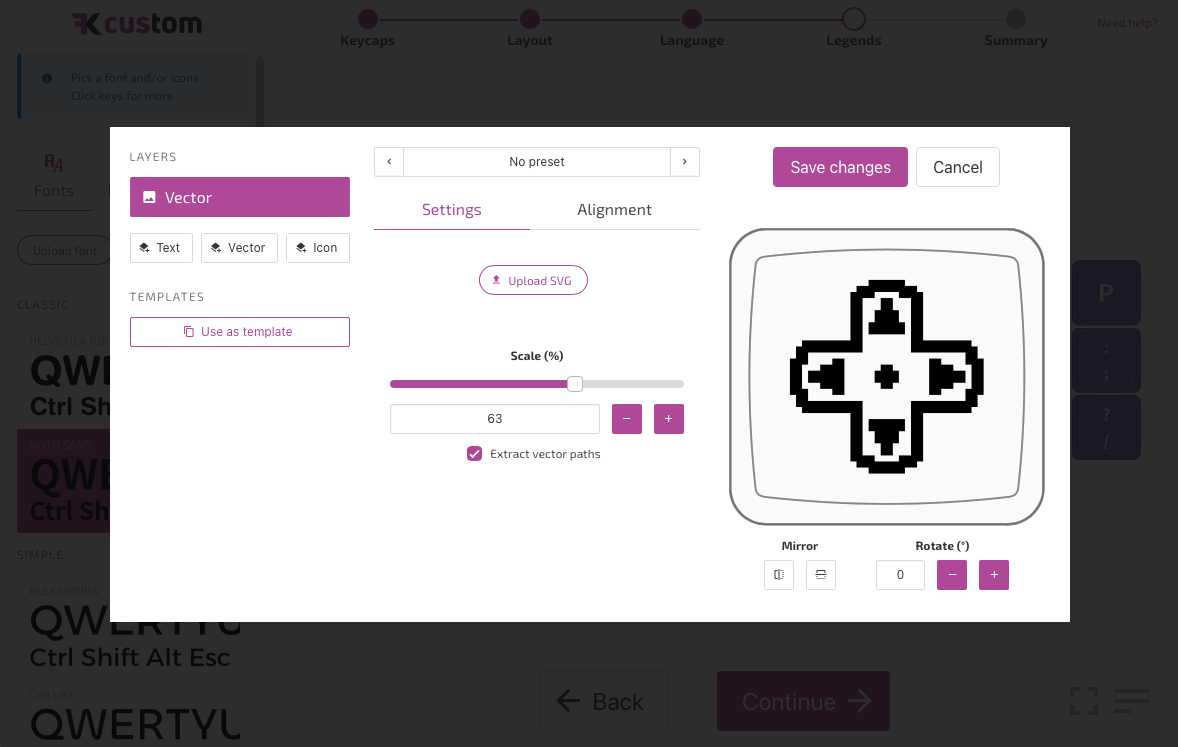 All of these key types allow for different scaling options. I used a variety of built in icons and uploaded .svg files in the icon set I purchased from FK Custom.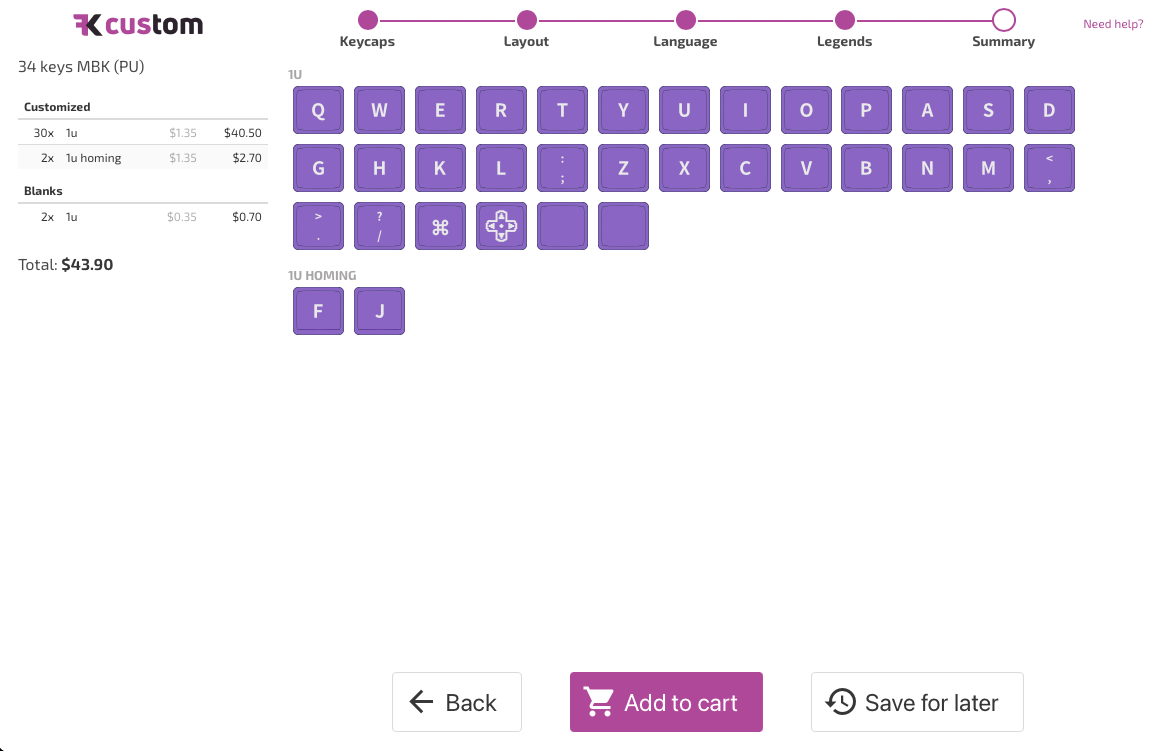 The final summary screen gives you a nice breakdown of your shopping cart. Keys are listed by size and profile, so it's easy to spot if you accidentally selected a concave key, or put the wrong legend on one of your home row homing keys. FK Custom charges a separate price for customized and blank keys, which makes it easy to toss in a few blank keys to your order in case your design sensibilities change over time.
The Finished Product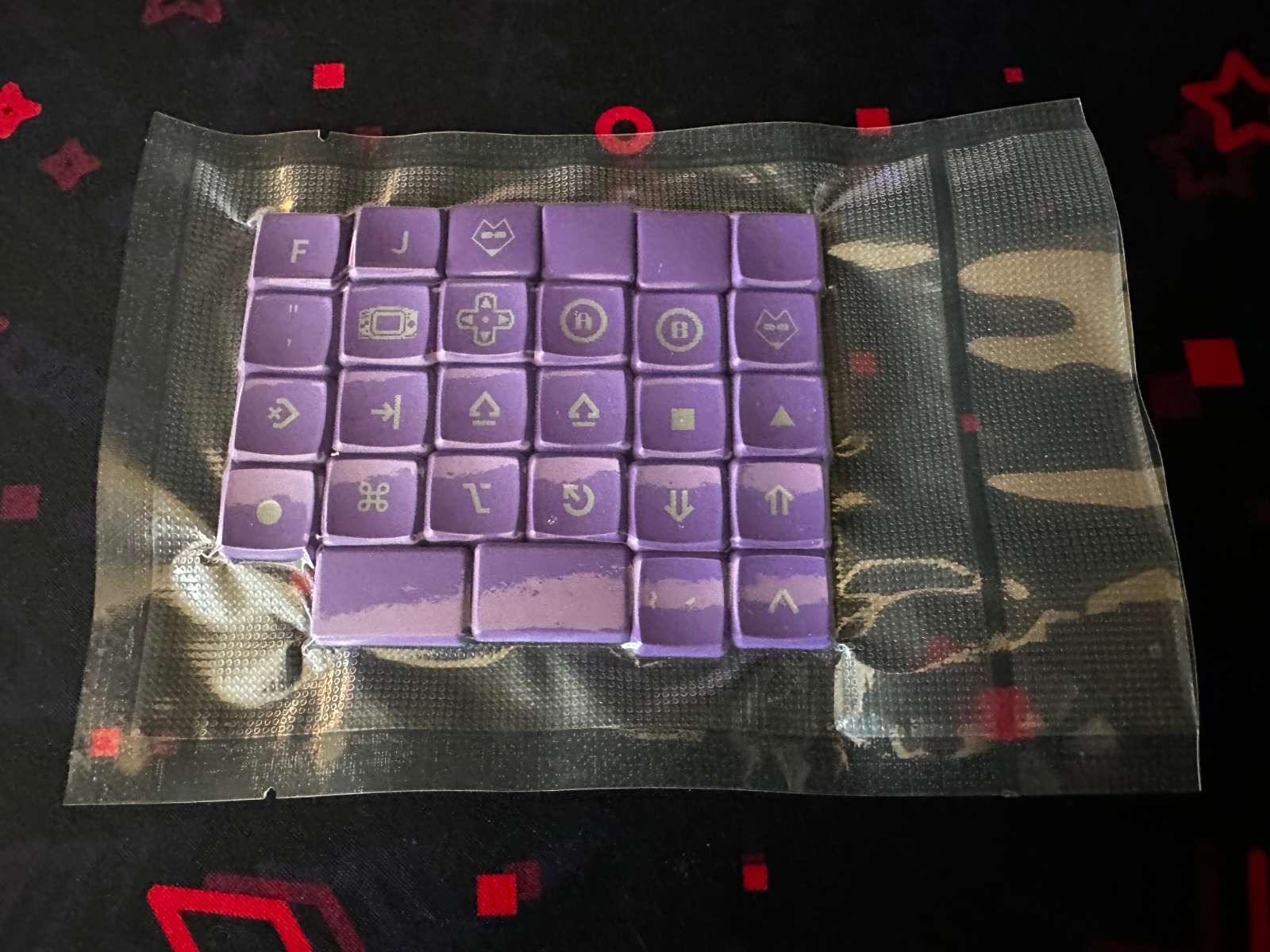 FK Custom had quick turnaround and shipping in the United States. Their 6-14 day shipping means these keycaps probably won't be the long pole in the tent for your new custom build. The keys arrive in a small shipping box, and are vacuum sealed during shipping to keep them safe and scratch free.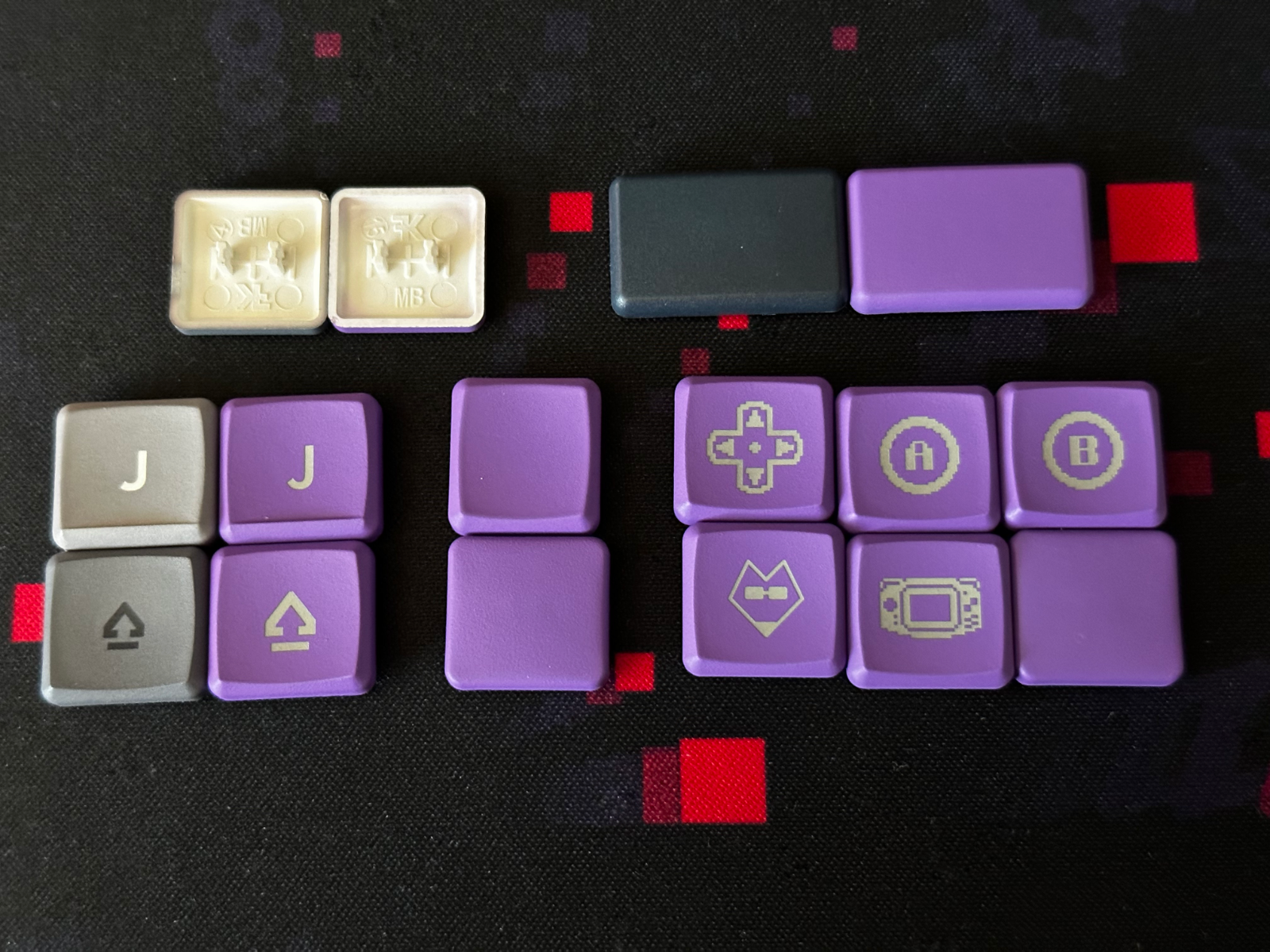 I'm incredibly happy with how these keycaps turned out. I was satisfied with the existing alpha keys in my MBK Legend set, but was eager to introduce a splash of color onto my keyboard with a new set of modifiers. I created a few keys with the existing MBK Legend set, as well as a few keys with custom vector designs from .svg files I uploaded.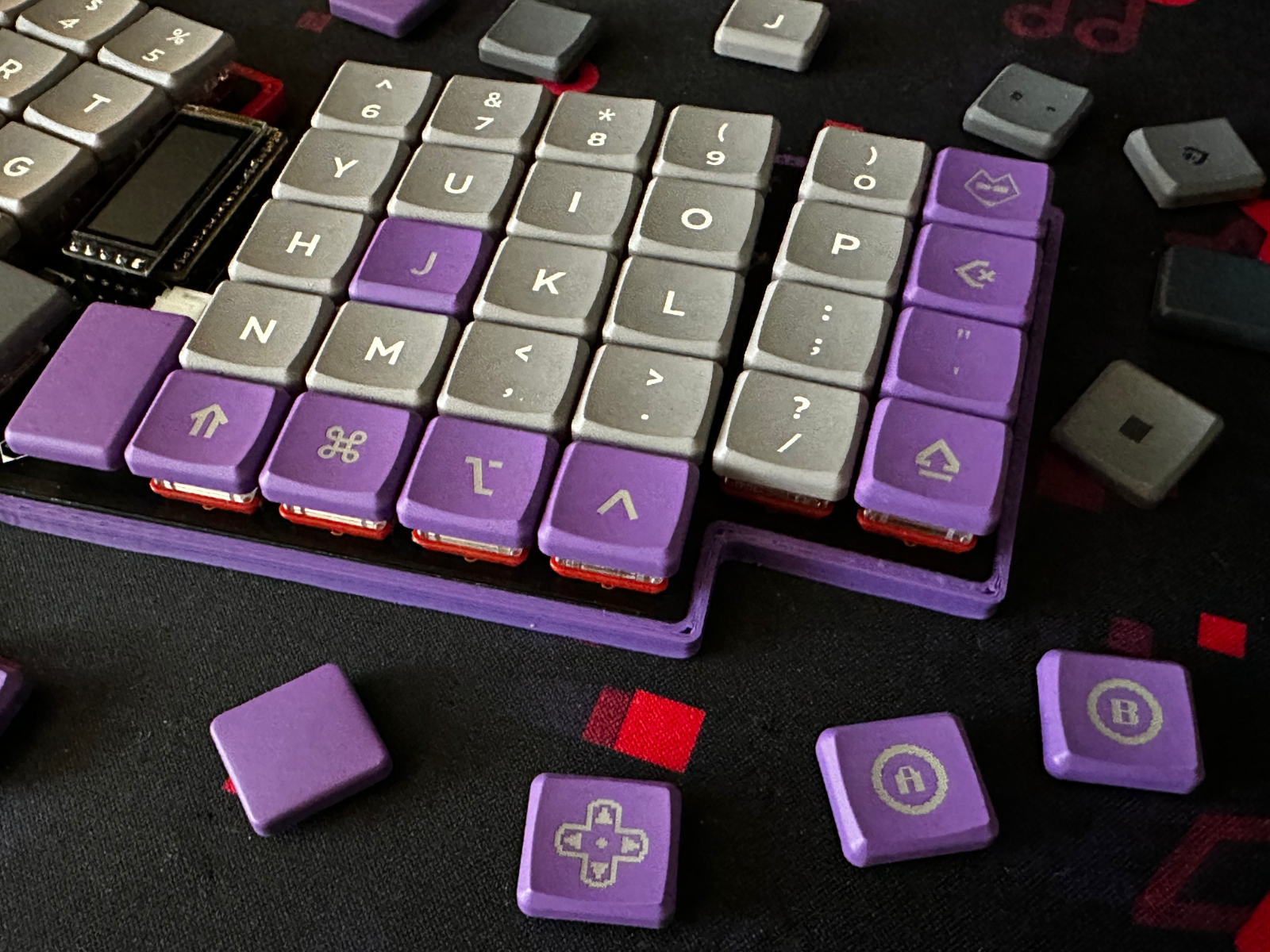 The laser engraved legends look good. My next board is going to have a gaming influence, and the laser engraving process was able to handle the pixelated sharp edges of the icons I uploaded without any problems. (Random aside: It's a fun weekend project to try and get vector graphics applications to output convincingly squared off pixels.) FK Custom's laser engraving also did a good job of handling the smooth lines of my FlatFootFox icon.
I purchased a few 1.5u keys, some concave keycaps, and a pair of new homing keys. They all turned out equally as well as the standard 1u convex keys. The "J" is just as legible on the homing key, and the icons I printed on the concave keys came out just as well as on the convex keys. If you're familiar with the other MBK keycaps, you basically know what to expect here.
It feels silly 1,300 words into this review to suddenly walk away with the conclusion of, "Yup, they're keycaps", but that's largely the takeaway here. 10/10, no notes. FK Custom lets you easily create a set of high quality custom-legend keycaps for your low profile mechanical keyboard. The next time you start an ergonomic mechanical keyboard build, make sure to budget a few keycaps from FK Custom. FK Caps has started up an affiliate program, so feel free to use the code FlatFootFox for an extra 10% off.
*The FK Custom keycaps featured in this review were purchased by the reviewer.
**FK Custom links in this review feature an affiliate code. More details about FK Custom's affiliate program can be found on their site. I don't foresee hitting their payout threshold, but wanted to offer the coupon code to anyone who happens to stumble across this review.